Drums Made From Lightning-Struck Trees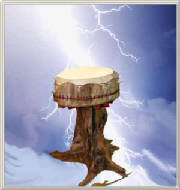 If you want to be the owner of the most awesome drum ever created you have to go to this Site.
https://www.naturalshamandrums.com/Home_Page.php
http://www.sacredshamandrums.com
It has been a long while since I have come across a True Shaman with such Energy. I have a drum made by this very gifted man...it is called Vision Hawk.
Like the Crystal Skulls...the feeling I have when playing this drum is "I am simply the caretaker" of Vision Hawk. He also offers Lightning Sticks for healing. These are awesome beyond belief!
Take a wonderful journey by visiting his Site.